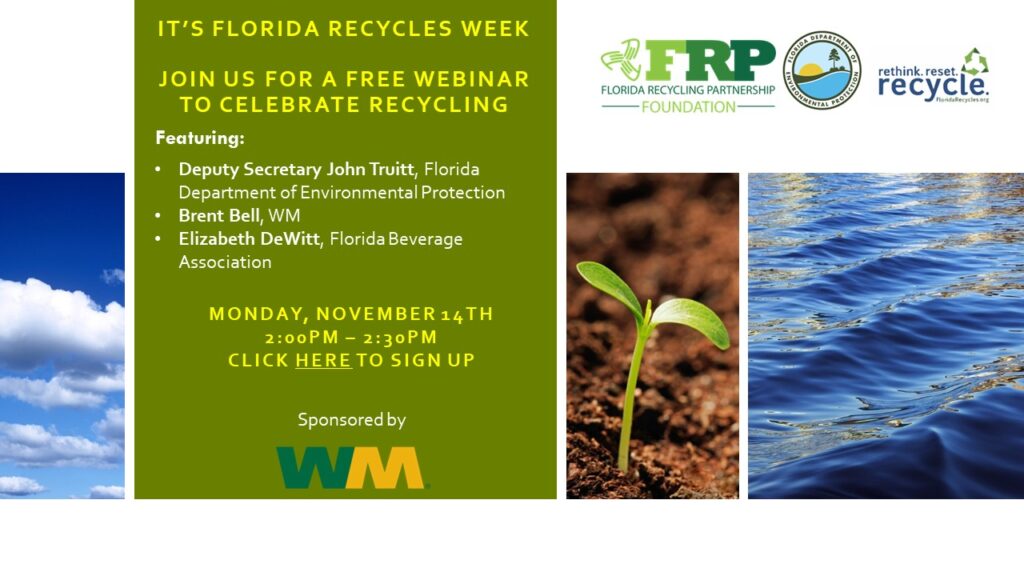 Florida Governor Ron DeSantis has officially proclaimed November 14-18 as "Florida Recycles Week" and the Florida Department of Environmental Protection and Florida Recycling Partnership Foundation are coordinating activities to encourage all Floridians to recycle.
Each day of Florida Recycles Week 2022 will offer free events with specific themes that educate people on the proper way to recycle.
Monday, November 14 (2:00 pm webinar) – "Celebrate Recycling" sponsored by WM
Speakers include Deputy Secretary John Truitt, Brent Bell, VP Recycling WM and Elizabeth DeWitt – Florida Beverage Association. Click here to sign up
Tuesday, November 15 (8:30 am) – America Recycles Day at Highland Elementary School in Lake Worth sponsored by Coca-Cola Beverages Florida
DEP will present Highlands Elementary School, Lake Worth, the Green Apple Award as FRPF members provide fun educational program on what and how to recycle – sponsored by Coca-Cola Beverages Florida. And don't forget to take the pledge on FloridaRecycles.org
Wednesday, November 16 – Recycling on the Go Event at Jetty Park Port Canaveral
Join Keep Brevard Beautiful, Florida Ports Council and Port Canaveral at Jetty Park for a beach cleanup and sessions about how to recycle when you are away from home or office – sponsored by Niagara Bottling and Wawa. Sign Up Here
Thursday, November 17 – Food Waste Prevention Day – social media event
Social media day with posts about food waste prevention, food sharing programs and composting. Follow Florida Recycling on social media Twitter @flrecycling and Facebook @FLRecyclingFoundation
Friday, November 18 (11:00 am) – Recycling Recognition Awards and Recycling Champion Awards Press Conference
DEP will announce Recycling Recognition Award winners, and the recycling partnership will announce its Recycling Champion Award winners on the steps of the Old Capitol, Tallahassee, FL at 11:00 am.